Headlining the evening concert, 'Music from out of Exile', in St Laurence Church is the Maya Youssef Sextet. A native of Damascus in Syria, Maya is now hailed as 'queen of the qanun,' the 78-stringed Middle Eastern plucked zither. Her intense and thoughtful music is rooted in the Arabic classical tradition but forges pathways into jazz, Western classical and Latin styles. It explores the emotional and healing qualities of music. For her, the act of playing music is the opposite of death and destruction; it is a life- and hope-affirming act and an antidote to what is happening, not only in Syria, but in the whole world.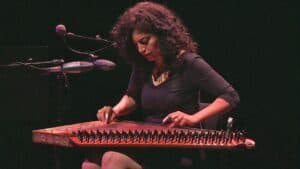 Maya last played at the Stroud Sacred Music Festival in 2018 and it was phenomenal experience. Moving from exuberant to profound musical recollections of her homeland and her journey from there, it was deeply affecting. And she has travelled some way since 2018. We wait in eager expectation for what she brings this time. Not to be missed.
Tickets £15 for the whole evening concert (6-10pm) available at the door  – or you may like to secure your ticket at www.scaredmusicfestival.org.uk.