10.30am-12.30pm in St Laurence Church this coming Saturday 9th July
: master musicians
K. Sridhar
(sarod) and
Jesse Bannister
(saxophone) offer a unique combination of
performance and information on "the Unstruck Sound."
They will perform Indian raga, including improvising together and then will open the floor for questions and answers. No experience is necessary, just a willingness to listen with your heart more than your head! An extraordinary opportunity to awaken to the yoga of sound with two masters of the tradition. Tickets £12 available at the door – or you may like to secure your ticket at
www.sacredmusicfestival.org.uk.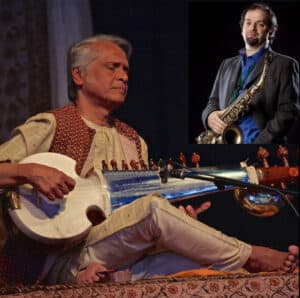 Biographies:
K. Sridhar was born into an Indian musical family and trained in classical Indian music with the sarod from the age of five years. The sarod is a fretless instrument that can produce continuous the slides between notes which are so important in Indian music. Sridhar was the youngest ever member of Ravi Shankar's orchestral group and started performing at the early age of 25. He lives in Stroud and teaches internationally.
Jesse Bannister is a world leading Indian Classical saxophonist, composer & educator. Jesse's musical credits include the Halle Orchestra, Talvin Singh, Aruna Sairam and Pt. Ajoy Chakraborty. Jesse is a unique and groundbreaking musician and he creates music to bring people back into a place of harmony.